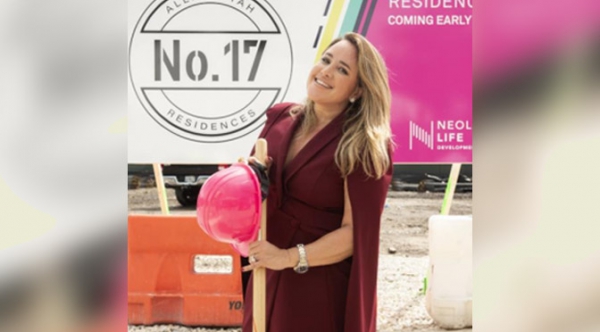 Did You Hear Calderon Sets Sights on Allapattah as Miamis Next Hot Neighborhood
Source: COSTAR | TONY WILBERT
Nearly two decades ago, Lissette Calderon envisioned an area on the banks of the Miami River becoming a thriving South Florida neighborhood.
Today, after developing four residential highrises and retail along the Miami River and helping create the community she envisioned, Calderon has set her sights on Allapattah, a neighborhood near part of Miami known as the Health District and a quick bike ride from the hip Wynwood area.
"When determining what was next, Allapattah just really made a lot of sense," Calderon said in an interview. "This is probably the last original, authentic neighborhood in the urban core."
As a result of her bold developments in up-and-coming parts of Miami, Calderon has established herself as one of the city's busiest multifamily developers. The daughter of Cuban immigrants whose dream was to start a development firm with her father, Calderon's company Neology Life Development Group has more than 2,500 multifamily units completed, under way or in planning in the heart of the city where she was born. As she did with the Miami River area nearly 20 years ago, Calderon is working quickly to help establish Allapattah as a hip area by building new apartments that people who want to live in the heart of the city can afford.
"When I began developing along the Miami River, we were delivering units for people who were priced out of waterfront living by providing an attainable alternative along the riverfront," she said. "Today, we are delivering units in Allapattah for residents seeking an alternative to the higher-priced urban districts nearby in an authentic neighborhood that is rising as an arts and culture destination."
Calderon's company has several developments under way or in the pipeline in Allapattah. On June 3, Neology Life topped off its No. 17 Residences Allapattah, a 14-story multifamily building with 192 apartments that's scheduled to be completed in the first quarter of 2021. Calderon also is working to secure permits to build Allapattah 16, a 323- unit multifamily property.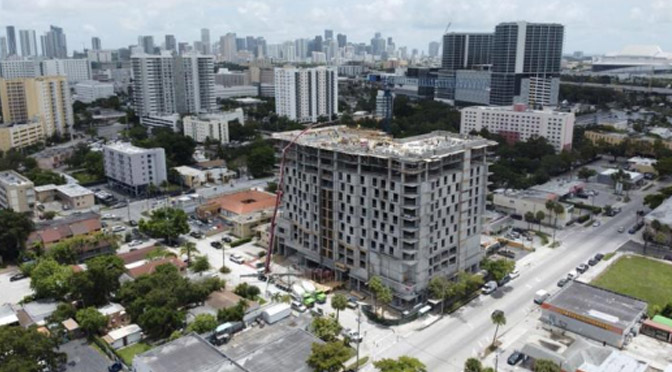 Her latest plan is to build new residences in the neighborhood center above ground-level retail at 1470 NW 36th St. For that project, Calderon paid $3.6 million for the two parcels that make up the development site, according to CoStar data.
Allapattah is poised to become a popular place to live, Calderon said, because of its authenticity, central location in Miami's core, proximity to major employment hubs such as the city's Health District and its connectivity to public transportation.
To be part of that transformation, she's executing a similar game plan she used to develop four large-scale multifamily projects along the Miami River.
"I absolutely thought it was going to be successful," she said of her focus along the Miami River, where Calderon built Neo Lofts, Neo Vertika, Wind by Neo and Pier 19 Residences and Marina. "All of those people who weren't sure are thinking, 'maybe she wasn't so crazy after all.'"
To succeed in Allapattah, Calderon is working with Miami-Dade County officials, including Miami District Commissioner Alex Diaz de la Portilla, whose district includes the neighborhood. Portilla sent remarks for the topping off of No. 17 Residences earlier this month.
"Demonstrating our shared commitment to Allapattah, our office had the opportunity to partner with her to celebrate the topping off and deliver bags of groceries to seniors in need in our community," Portilla said in a statement. "This is another example of how when the public and private sector come together great things can happen."
Calderon became interested in real estate while in school, watching her father build or fix up and sell houses. "I always grew up respecting and admiring and loving the work he did," she said.
As a result, Calderon said she'd dream about starting a development firm with her father, but that ended when he died in an automobile accident when she was 17. After that, she went off to Philadelphia for college at the University of Pennsylvania to study finance and real estate at the Wharton School of Business.
Upon graduation, she moved to New York for a job in finance and lived in a loft in Soho. When she eventually made it back to Miami, she found that, even for her as a collegeeducated professional, she was priced out of living in Miami's urban core or on the water.
It was either live in the suburbs and commute an hour each way into the city or make the "very unglamorous decision of living with my mom," Calderon said. She chose the latter. She worked as an assistant property manager for billionaire developer Jorge Perez and the Related Group and then would choose to use her real estate background and develop apartments along the Miami River, in the loft style she loved when she lived in Soho.
The first, a condominium tower called Neo Lofts, sold out before it opened, Calderon said, and her career as a developer took off from there. Calderon said her company now develops apartments because it wants to be long-term holders of the properties Neology Life builds.
"I knew if we built the right project that people do want to live in the urban core," she said.
In the male-dominated world of development, Calderon said she knows she stands out, and she wants to leverage that to help others get into the commercial real estate industry.
"I don't look like most developers out there," she said. "Hopefully it inspires people who look like me to get into the business and chase their dreams.
"This is a testament to not lose faith or not to lose hope."
Share This Story, Choose Your Platform!