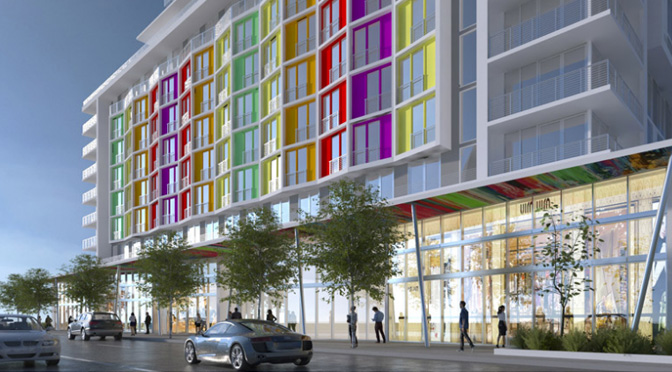 Julia Apartments break ground in Miami's Allapattah
Source: SOUTH FLORIDA BUSINESS JOUNAL
Neology Life, led by developer Lissette Calderon, broke ground on an apartment complex in the Allapattah neighborhood of Miami after obtaining a $78.2 million construction loan.
The Julia Apartments, named for Miami founder Julia Tuttle, will have 323 units. Construction on the 14-story building at 1625 N.W. 20th St. is expected to be completed by mid-2023. The developer said the total cost of the project would be $100 million.
Units in the Julia will range from 586 to 892 square feet. Amenities will include a pool with cabanas, a rooftop garden, a fitness center, a coffee bar, and a dog park. There will be 15,000 square feet of retail.
"The Julia will offer a curated, one-of-a-kind modern residential living experience with cutting-edge amenities that will appeal to a diverse cross-section of today's urban renters," Calderon said. "The building has been thoughtfully designed, inside and out, to reflect the area's unique history and character, and we hope as a result it will become a beloved and integral piece of the community's fabric for many years to come."
Trez Capital provided the mortgage to TCG Allapattah, an affiliate of Neology Life, for the 1.7-acre lot. The loan was brokered by Charles Foschini and Chris Apone of Berkadia Miami.
The developer acquired the property for $6.4 million in 2019. It previously had a warehouse. "When we evaluate lending opportunities, we focus on the needs of a community and the track record of the developer," said Ben Jacobson, a managing director at Trez Capital. "Partnering with Lissette and understanding her vision, we think Allapattah is perfectly positioned to attract nearby working professionals and families who desire a certain level of luxury living but are priced out of places like Brickell, downtown and Wynwood."
Doral-based Jaxi Builders is the general contractor. The project was designed by Behar Font & Partners in Coral Gables.
Allapattah was overlooked by developers for decades. It mostly has single-family homes and old warehouses, but with development in Wynwood and Midtown Miami raising prices in those neighborhoods, more people and businesses have been attracted to Allapattah to the west. Neology Life recently completed the 192-unit No. 17 Residences there.
Share This Story, Choose Your Platform!