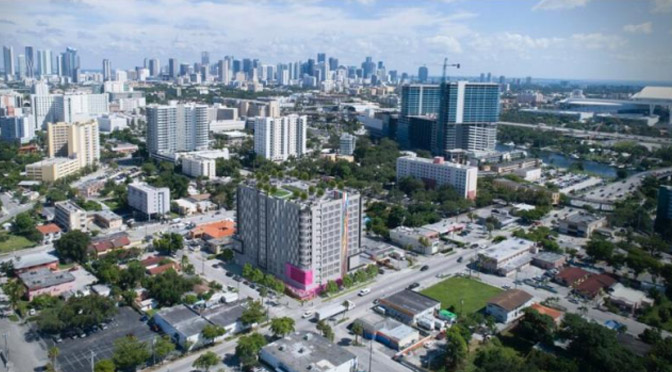 Lissette Calderon bought another development site in Allapattah. Its her third
Source: THE REAL DEAL | KATHERINE KALLERGIS
Developer Lissette Calderon is increasing her footprint in Allapattah.
The president and CEO of Neology Life Development Group bought a 64,810-square-foot site at 1470 NW 36th St. for $3.6 million on Friday in an all-cash deal. The site, located within an Opportunity Zone, will be the home of the 14-story upscale apartment building Allapattah 14. Calderon said she expects to obtain permits by late 2020.
Allapattah 14 will be the development firm's third project in the produce warehouse area.
"I've been bullish on Allapattah since 2016," Calderon said. "You're like in a doughnut. You have Midtown, downtown and the Miami River nearby […] It's the last part of old Miami that hasn't had a lot of reshaping."
Allapattah 14 project will have 237 units with a studio with one bathroom starting at $1,200 per month. The 160,000-square-foot building will have about 5,000 square feet of retail space. Amenities include art tours, social events, pool, dog park, gym, outdoor movie screen, bike station, smart package lockers for Instacart deliveries and electric charging stations for cars.
Neology's other projects in Allapattah continue to progress. Allapattah 17, at 1569-1652 Northwest 17th Avenue, topped off in June. Pre-leasing for the 192-unit apartment building is expected to begin in November; completion is set for February 2021.
Allapattah 16, at 1625 Northwest 20th Street, is in the permitting process. Plans calls for 323 rental units.
Calderon, best known for her developments along the Miami River, said Allapattah's proximity to public transport — the neighborhood has a Metrorail station — the Health District and Miami International airport make the area attractive. Last year's opening of the Rubell Family Museum in the neighborhood boosted her confidence, as has Miami Commissioner Alex Diaz de la Portilla's support for development in the urban core.
The pandemic slowed the closing on the site, she said. "We were all working remotely; working remotely definitely slowed the process as opposed to us all being in the office." She reviewed the architect's plans via Zoom and was unable to mark up plans as per usual. As opposed to meeting with a City of Miami representative who could answer all questions in person and quickly, the city took longer to respond over email.
Calderon's company has favored rentals over condos in the area. "A condo is a gorgeous baby," she said. "You give it all you can and raise it until at 18 it leaves you and you never see it again. You can have a bigger impact with an apartment. You can shape a neighborhood."
Neology celebrated the topping off of Allapattah 17 by providing 80 groceries to residents closest to the rising project. No word yet on how she will celebrate future projects. But, she said, "When projects get done we make sure it impacts the entire neighborhood."
Share This Story, Choose Your Platform!