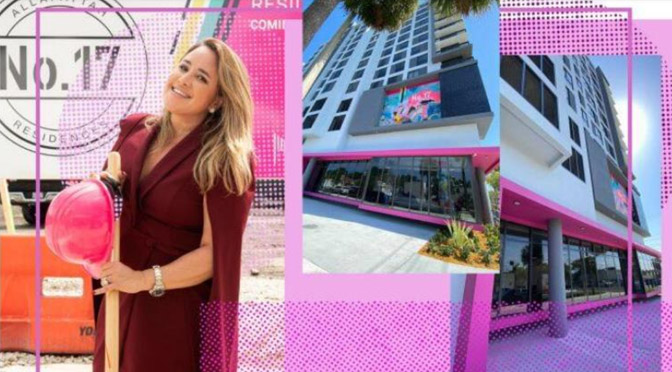 Lissette Calderon delivers first multifamily project in Allapattah
Source: THE REAL DEAL | Katherine Kallergis
Developer Lissette Calderon has completed the first of her three apartment projects in Miami's Allapattah neighborhood.
Nearly two and a half years after buying the land, Calderon's Neology Life Development Group received a temporary certificate of occupancy for the 192-unit No. 17 Residences, a 13-story building at 1569 Northwest 17th Avenue.
Calderon said it's "the perfect time" to build in Allapattah, which she said is Miami's "last authentic urban core neighborhood." The area has attracted major real estate players, including the Related Group's Jorge Pérez and 1111 Lincoln Road developer Robert Wennett.
Pre-leasing, including virtual tours, launched earlier this year. Calderon said monthly rents start at about $1,200 for a studio apartment. The building offers "attainable luxury" that was lacking in Allapattah, she added. Studios start at 740 square feet, and onebedroom apartments start at 600 square feet. Units go up to 1,125 square feet for a threebedroom, according to the development's website. The building is west of the Miami Health District and northeast of her Pier 19 Residences & Marina apartment building on the Miami River. It's south of the Rubell Museum and the popular Hometown Barbecue restaurant.
Amenities include an 8,000-square-foot park for residents, which was added during the pandemic due to increased demand for outdoor space, a pool deck with cabanas, rooftop garden, fitness center, co-working spaces, and package rooms.
Calderon said she plans to break ground on her next two projects, 16 Allapattah and 14 Allapattah, this summer, and deliver those buildings about 16 months from groundbreaking. 16 Allapattah is planned as a 323-unit rental building with 9,000 square feet of office space and ground-floor retail, and 14 Allapattah, a two-tower project on an Opportunity Zone site, is expected to have 237 apartments and ground-floor retail.
Wennett, who tapped Bjarke Ingels to design his major mixed-use development nearby, secured approval from the Miami City Commission about two years ago for his Miami Produce Center special area plan. The planned 1.4 million-square-foot development could have as many as 2,400 co-living units and 637 traditional residential units, nearly 231,000 square feet of office space, 129,000 square feet of retail space, about 22,000 square feet for "educational uses," as well as more than 1,000 parking spaces.
Calderon said she has been welcomed by the community in Allapattah, and that she is not displacing residents.
"I go into neighborhoods where I'm wanted," she said, noting that her firm purchased existing warehouses and shuttered buildings.
Share This Story, Choose Your Platform!