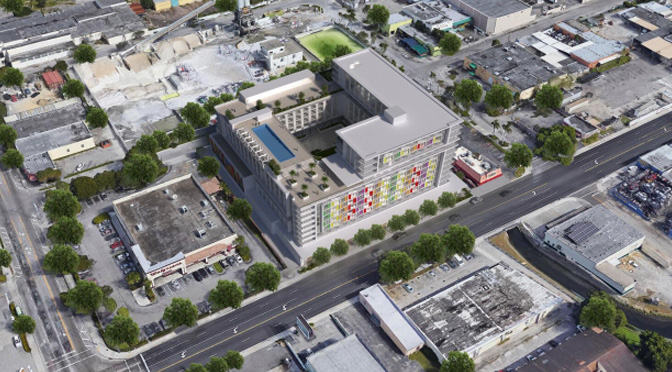 Lissette Calderon's Neology Life locks down $78 million construction loan for Allapattah multifamily
Lissette Calderon's Neology Life Development Group has locked down a $78,197,393 construction loan for The Julia, a 323 unit apartment building with ground-floor retail space in Miami's Allapattah neighborhood. The loan was secured by Berkadia and provided by Trez Capital, a private real estate lender helping to build better communities across North America. Trez Capital Managing Director Ben Jacobsonoriginated the loan, which closed on October 12, 2021. Bilzin Sumberg and GT Law provided legal counsel.
Construction has already begun, with the project set to be delivered in mid-2023. The general contractor for The Julia is JAXI Builders, Inc.; the architect is Behar Font Architects; interior design is by designBAR; and Witkin Hultz Design is the landscape architect.
"Lissette Calderon is a pioneering developer who has been extremely successful revitalizing the Miami River district and now breathing new life into Allapattah, one of Miami's oldest neighborhoods," Jacobson said. "We are delighted to partner on this exciting project by providing financing for a development that is sure to capture intense interest from the public."
The Julia is Neology Life's second, lifestyle-driven residential community in Miami's historic Allapattah neighborhood. Formerly No. 16 Residences, The Julia is a $100 million, 14-story residential tower that will deliver 323 upscale one- and two- bedroom apartments to one of the city's most historic and vibrant neighborhoods. Located at 1625 NW 20th Street, The Julia is situated just a few blocks from Neology's first Allapattah apartment development, No. 17 Residences, which opened in May of 2021 and leased up in record time.
Allapattah sits just northwest of downtown Miami and abuts the famed Wynwood district to the east, offering easy access to major highways and employment centers. Allapattah, which includes Miami's Health District, has quickly become one of Miami's most sought-after urban territories, boasting a cluster of new cultural institutions (including the Rubell Museum and Superblue) as well as many new small businesses, restaurants and nightlife establishments.
"The Julia will offer a curated, one-of-a-kind modern residential living experience with cutting-edge amenities that will appeal to a diverse cross-section of today's urban renters," said Lissette Calderon, President and CEO of Neology Life DevelopmentGroup. "The building has been thoughtfully designed, inside and out, to reflect the area's unique history and character, and we hope as a result it will become a beloved and integral piece of the community's fabric for many years to come."
"This is an exciting milestone for Allapattah," added Miami City Commissioner Alex Diaz de la Portilla. "High-quality housing options are key to our community's success and projects like The Julia provide that. Moreover, Lissette Calderon and her team at Neology are experienced in building authentic, vibrant communities, and have a deep appreciation for Allapattah's history, culture and mom-and-pop businesses. They will be valued, long-term partners in helping us achieve measured growth that benefits and inspires all Miamians."
Calderon added, "Over 20 years ago, I started on this journey to deliver quality lifestyledriven attainable luxury living to Miamians who were being priced out, and to help some of Miami's most overlooked neighborhoods realize their full potential. I've had the honor of watching this transformation unfold in the Miami River District, where we started, and we see the same potential in Allapattah, one of Miami's last remaining authentic urban neighborhoods. We chose to name our second Allapattah development after Miami's founding mother, Julia Tuttle, who is a personal hero of mine – and because we hope it stands as a beacon to every young woman with big dreams. With hard work, grit and sacrifice, they can achieve anything."
Inspired by Miami's original real estate visionary, American businesswoman Julia Tuttle, The Julia will embrace a "tropics-meets-metropolis" aesthetic combining elements of Art Deco with 1950s-style glam. Interior common areas will feature neoclassical elements such as brass accents, wood details and colorful mosaics alongside bright, botanical patterned wallcoverings and other fun, punchy colorful elements for a mood that is romantic, sophisticated and timeless.
The property will offer a mix of one- apartments and two-bedroom apartments ranging from 600 to 1,00 square feet. Unit interiors will feature energy efficient, stainless-steelappliances, quartz countertops, European-inspired cabinetry, in-home washer and dryers, expansive views, and balconies in all units.. Amenities at The Julia will include a ninth-floor Sky Lounge with resort-style pool deck, clubroom, and wellness center, and 15,000 square feet of street-level retail space.
"When we evaluate lending opportunities, we focus on the needs of a community and the track record of the developer," Jacobson said. "Partnering with Lissette and understanding her vision, we think Allapattah is perfectly positioned to attract nearby working professionals and families who desire a certain level of luxury living but are priced out of places like Brickell, downtown and Wynwood."
The Julia is centrally located just a few blocks from the Civic Center Metrorail Station, the University of Miami Health System, Jackson Memorial Hospital, and Miami-Dade College Medical Center. The property is just a short car or public transit ride away from both Brickell and Downtown, home to several large employers and dining and shopping destinations, along with popular attractions such as Marlins Park, American Airlines Arena, the Adrienne Arsht Center for the Performing Arts, Perez Art Museum Miami and Frost Museum of Science, and the new Brightline commuter rail station connecting Miami to Fort Lauderdale, West Palm Beach, and eventually Orlando.
Neology intends to break ground on a third Allapattah residential community in the coming months, bringing its portfolio up to 1,200 apartments throughout Miami.
The multifamily market continues to sizzle in South Florida, with rent increases expected to grow between 8% and 9% over the next year, according to CoStar Group. Another report from Realtor.com says South Florida is the third-fastest growing rental market in the U.S.
Share This Story, Choose Your Platform!