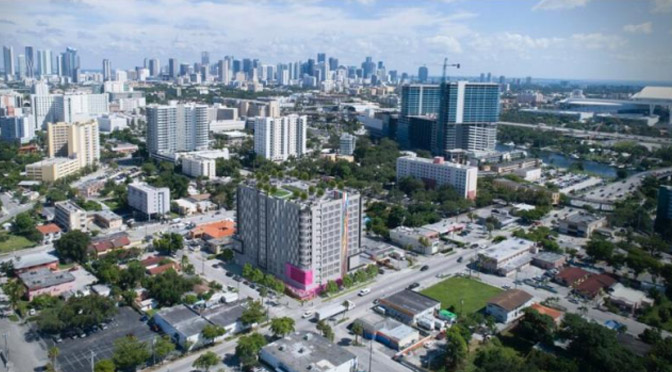 Miami River builder buys development site in Allapattah
Source: SOUTH FL BUSINESS JOURNAL | BRIAN BANDELL
Neology Life Development Group, led by Lissette Calderon, acquired a development site in the Allapattah neighborhood of Miami for $3.6 million.
The deal sets up Calderon's third development project in the emerging neighborhood, which is northwest of downtown Miami and not far from the popular Wynwood Arts District.
P26 LLC, managed by Geoffrey Peckham in West Palm Beach, sold 1.49 acres at 1454, 1466, 1470, 1472, and 1482 N.W. 36th St., plus 1455, 1471, 1475, 1481, and 1495 N.W. 35th St. to TCG Allapattah 14 LLC, an affiliate of Neology.
"Almost 20 years ago, I broke ground on my first project along the Miami River," Calderon said. "At the time, I recognized the potential the riverfront had to offer not just a place to live, but a lifestyle to residents in the heart of Miami. This same vision that led me to develop and invest in four high-rise residential developments along the river has brought me to Miami's vibrant Allapattah.
She said the project would have 237 apartments and ground-floor retail. It's in an Opportunity Zone, so it could have significant tax benefits for the developer.
Neology worked with law firm Bilzin Sumberg on the deal, in addition to brokers EJ Martinez and Louis McMillan of Global Investments. The project was designed by Behar Font & Partners.
Neology recently topped off No. 17 Residences Allapattah, which will have 192 units. The company is seeking building permits for Allapattah 16, with another 323 units.
"When I began developing along the Miami River, we were delivering units for people who were priced out of waterfront living by providing an attainable alternative along the riverfront," Calderon said. "Today, we are delivering units in Allapattah for residents seeking an alternative to the higher-priced urban districts nearby in an authentic neighborhood that is rising as an arts and culture destination."
Share This Story, Choose Your Platform!