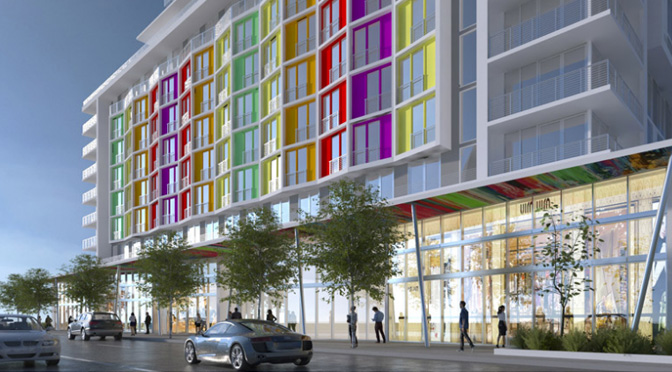 Miami's Allpattah Resurgence Benefits City's Workforce
Source: FORBES | Jeffrey Steel
In the quest to carve out new, well-connected infill enclaves, a number of cities have looked to districts that traditionally sprouted to serve the food and
restaurant sectors. New York's Meatpacking District in west lower Manhattan, or Chicago's Fulton Market just west of the Loop central business district, are
classic examples of the trend.
The latest enclave to witness the transformation may be Miami's Allapattah. Long dubbed the Fruit Packing District for its produce markets and flower distributors, the neighborhood is now seeing a flurry of new investment and millions of square feet of fresh development. But unlike the Meatpacking District, with its plush townhomes and rowhomes, or Fulton Market, home to trendy eateries and glittering new multifamily buildings targeting young tech sector workers, Allapattah's transition stands to benefit its city's working class by providing workforce residences affordable to some of the hardest-working Miamians.
Lifestyle driven
The Allapattah area's working class has for years confronted limited options when it came to high-quality housing. Neology Life Development Group,
headed by Lissette Calderon, has worked to change that. Among the Magic City's best known developers – and also its only female, Hispanic residential
developer – Calderon is underway on three residential projects totaling 800 apartments.
"Understanding the need for housing options for all residents, not just at one specific price point, is a driving force behind our corporate mission of not just
building buildings, but creating lifestyles at an attainable price point," Calderon says.
No. 17 Residences, the first lifestyle-driven residential project to start construction in Allapattah, recently topped off ahead of a February 2021
unveiling. Located at 1569 17th Ave., the 14-story tower will offer 192 residences in a mix of one- to three-bedroom layouts starting at just $1,200
monthly. Also on Calderon's roster of emerging developments is the 323-unit apartment building dubbed 16 Allapattah, featuring 9,000 square feet of office
and street-level retail space. Calderon's third residential development will rise on a recently-acquired parcel bearing Opportunity Zone designation. It will be
home to 237 apartments as well as first-floor retail.
A community of residences priced within the carefully-tended budgets of those comprising the backbone of Miami's workforce wouldn't be complete without
shopping to match. That's why the retail revival on the edge of Allapattah is so important. Recently completed on the river's north bank is the $380 million, Andy
Hellinger-developed River Landing Shops and Residences. Alongside its 503 residences and riverside park, River Landing will offer popularly-priced
retailers TJ Maxx, Ross, Burlington, Old Navy and a Publix supermarket.
Share This Story, Choose Your Platform!