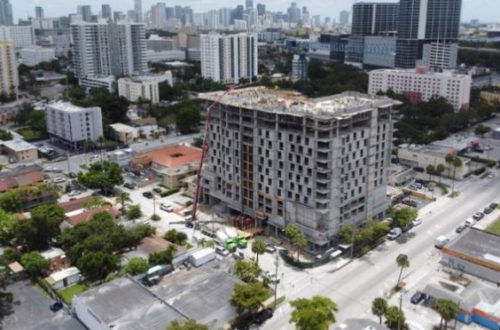 Neology Tops Out on First Project in Miami's Allapattah
Source: CONNECT COMMERCIAL REAL ESTATE
Neology Life Development Group's No. 17 Residences Allapattah has topped off construction at 14 stories. Slated for completion in the first quarter of 2021, the residential building – Neology's first in the neighborhood – will deliver 192 rental apartments to Miami's urban core.
"We are very excited to be one step closer to welcoming residents to their new home at No. 17 Residences Allapattah," said Lissette Calderon, president & CEO of Neology.
She added, "Once complete, No.17 Residences will help meet Miami's growing demand for attainable luxury rental housing. The property's centralized location and lifestyle driven amenities will appeal to today's urbanites and foster a sense of community in one of Miami's most authentic neighborhoods."
Given the Allapattah neighborhood's proximity to the Health District, Downtown Miami's CBD and the Brickell Financial District, the project will cater to working professionals seeking an amenity-rich residential community.
Share This Story, Choose Your Platform!