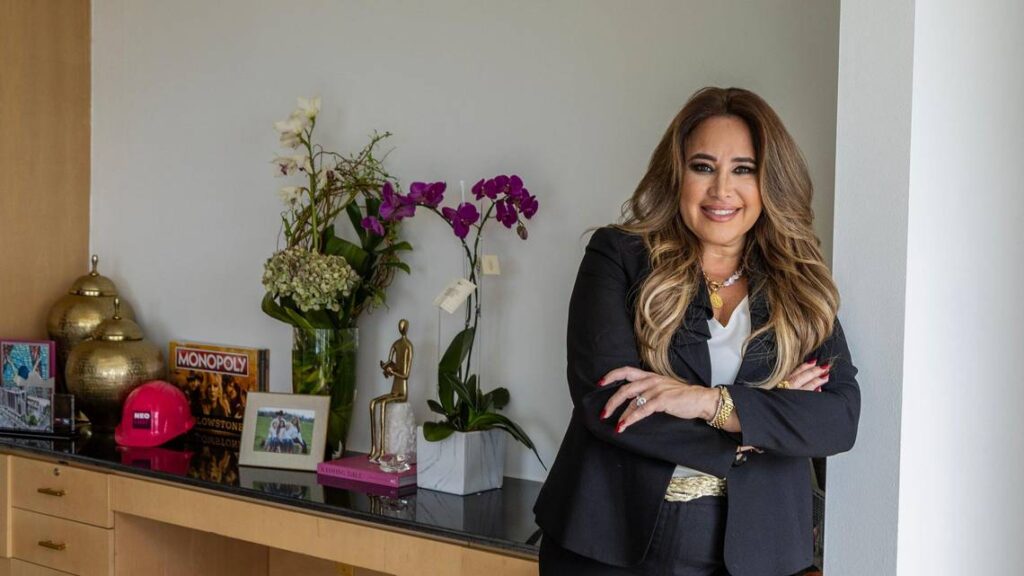 'Queen of the Miami River' moves to Coconut Grove to build next stage of real estate career
One of Miami's few female real estate developers charts new territory, by making a recent move that brings her full circle in her career and sets her up, she thinks, to build a new Miami.
Neology Life Development Group CEO Lissette Calderon, 49, relocated her company to Coconut Grove. She found a Bayshore Drive office for her team of 20 employees that's three times the size of her company's former home on the Miami River.
It's the right size, she said, to add 10 more people to her team, before the end of the year, in preparation for developments in the pipeline. It's an important move for the woman dubbed "Queen of the Miami River," for blazing a development trail along the 5.5-mile waterfront running between the Miami Canal at Miami International Airport to Biscayne Bay.
Neology built nine projects along the Miami River and Allapattah. The firm holds an apartment and condominium portfolio worth $2 billion, including 2,000 condo homes sold and 1,200 apartment rentals. Two apartment buildings are slated to open in 2024, Fourteen Allapattah Residences and The Julia.
"I hope to always be the Queen of the Miami River, because the Miami River is near and dear to my heart," Calderon said in an interview in her company digs. "Our projects are just not on the river anymore. We've expanded."
Another 1,350 apartments are planned for seven acres at 2301 NW 33rd Ave. And there will be Calderon's first development outside of South Florida, at a site in Central Florida she didn't want to disclose at this point.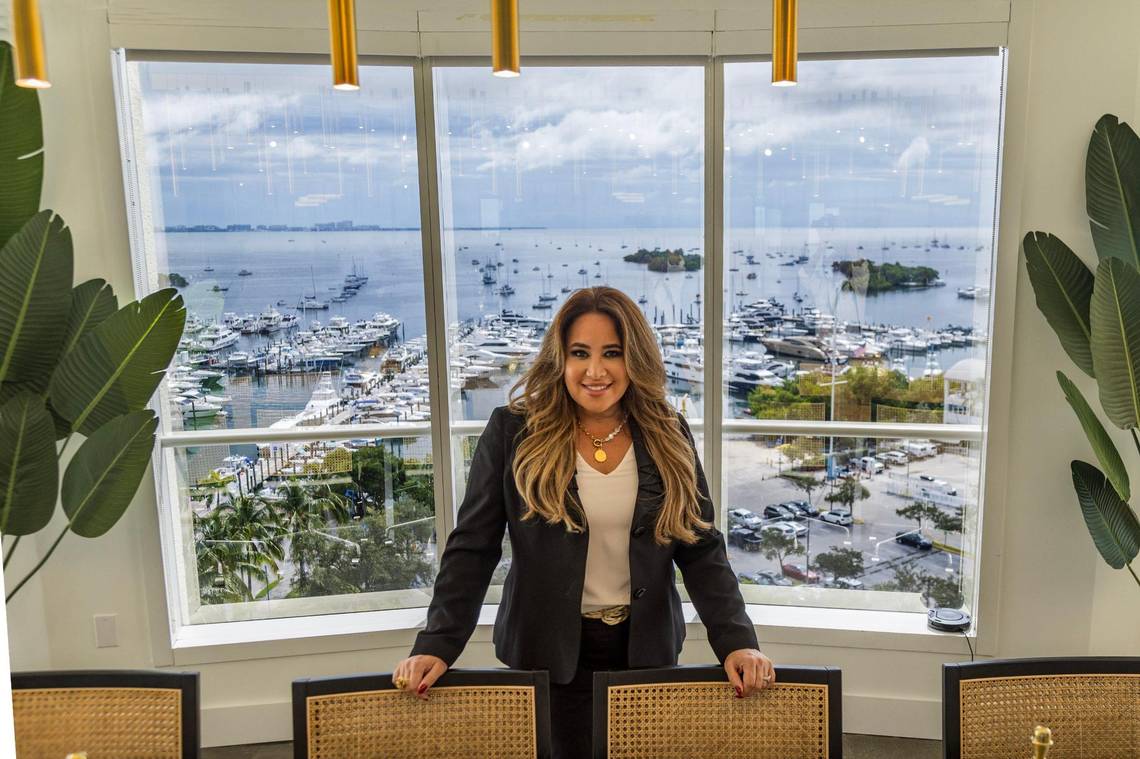 'There is no greater dream for me," Lissette Calderon says, "than hopefully one day one of my daughters, if not all three, are somehow involved in this.' Calderon, CEO of Neology Life Development Group, stands in the conference room of the firm's new Coconut Grove office, on Friday, Oct. 20, 2023. Pedro Portal pportal@miamiherald.com
It just so happens Calderon's Coconut Grove office is in the same building, where she started her career a couple decades ago at Terremark. The real estate-turned-technology company once occupied the penthouse floor in the building.
A graduate of the University of Pennsylvania's Wharton School of Business, Calderon was the first in her family to attend college. Born the child of Cuban immigrants, Calderon and her younger brother, Ralph Calderon, are the first generation of Americans after her parents fled communism in the 1960s.
Always good with numbers, Calderon got her career start as an investment banking analyst at Donaldson, Lufkin & Jenrette in New York in its merchant banking division, after graduating college in 1996. She returned to Miami for good a few years later.
Her father, who died weeks before she graduated from Coral Gables High School in 1992, inspired Calderon's real estate career through his construction business.
"My dad was my idol. My dad was everything. I would go on Saturdays with him to these job sites," she recalled. "We would always talk about one day, dad we would do this together." Calderon ensures her three daughters — Mia Albelo, 18, Aleksandra Albelo, 17, and Gianna Albelo, 16 — are exposed to real estate.
Calderon shares her three daughters with her husband, Gabriel Albelo, 52, the founder and CEO of Transamerica Training Management, a software consulting company and Oracle partner. She hopes one or all three children follow in her footsteps. Her eldest is enrolled in the real estate and finance program at Cornell University.
Today, Calderon is personally and professionally moved by potentially influencing future generations.
"I hope to inspire another woman real estate developer," she said. "When I look around a room, it's usually me in the room and I hope through my efforts and what I'm doing I can inspire the next generation."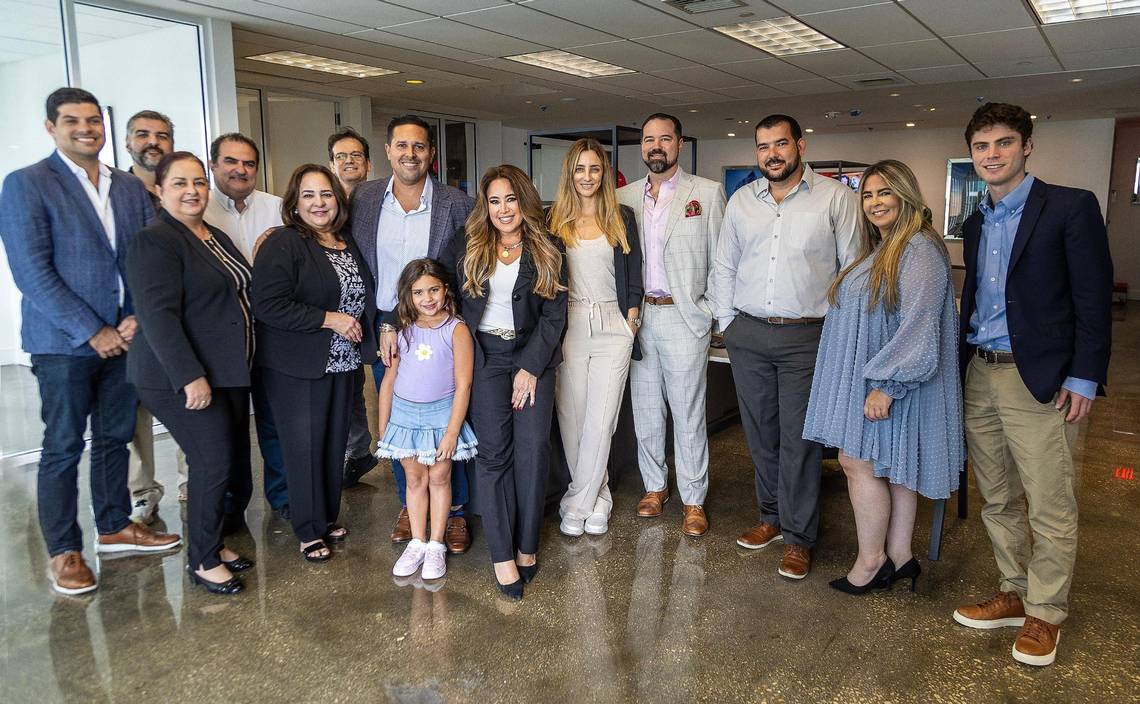 'This office is just a box if it didn't have the people that were here every day. For that I am really grateful, for my team, because it is really about them,' says Lissette Calderon in the center surrounded by her team of employees on Oct. 20, 2023. Pedro Portal pportal@miamiherald.com
Here is a Q & A with Calderon about her work:
▪ Question: The pandemic forced many people to work from home and left executives still reevaluating the value of an office. Why did you decide to rent a larger space?
▪ Answer: I don't think there is any replacement for human contact. If I'm going to have everybody in the office — which I understand is taking a different view that other people hold — I wanted to make sure it was an office that people enjoyed coming to, that made them fulfilled and happy to call a second home. I definitely spend more waking hours here than I do in my own personal home. That probably goes for most people here. I wanted to make sure that if they were going to be here and it was going to be a home, it was a place that really allowed them to be as creative as they wanted to, allowed them to have as much fun that allowed them to pursue passion projects that allowed them to collaborate. That is why to me it was imperative that we had an office.
▪ Q: Developers have flocked to Coconut Grove over the past few years, including Terra and Related Group. Why do you think that is?
▪ A: The Grove cannot be duplicated. There is an authenticity in Coconut Grove that speaks to what is old Miami that some of us love and reminisce about. I remember growing up in high school and having Cocowalk back in the day. That's where my mom would drop me off to meet my friends and pick me up an hour later. The Grove has done a good job I think of allowing the present, but still holding on to pieces of the past with authenticity with places like Sandbar Sports Grill.
There's that and then there's definitely the convenience factor of it. Coconut Grove is in the middle of the city. There are fantastic schools around here. It is very easy for a lot of us to come down here and drop off our kids and come to work. It is also simple to come and be part of the kids lives. If it's a lunch or an event, I can walk.
▪ Q: South Florida continues to face challenges tied to public transit and climate change. How do you weigh these issues when thinking about new development?
▪ A: From a sustainability standpoint, I have to say what we do is also very important, because if I can build within existing infrastructure, I am bringing people back to the city. I am reimagining, reinventing you know a city, the urban core. Every project I have ever done, it has been an abandoned laundry, an abandoned parking lot, it has been an abandoned rental car center, an abandoned pawn shop. Everything we have ever done has been something that gave back to the community. We knocked that out and built these vibrant communities that exist not just for our residents, but for our entire neighborhood, as well as for the entire community. In doing that, I said if I can build close to mass transit, I am taking cars off the road. That is something that is very important. If I can take cars off the road and encourage people to walk and use rideshare, it means less cars.
Of course, we're thinking long term. We took the flood elevations into consideration and what those flood elevations are. It is very much at the forefront of whether we have flood panels, that kind of resiliency, so it is definitely at the forefront of what we do. From a business standpoint, you have to think about it. The insurance companies and the headwinds we face with that are things you want to make sure you do everything in your power as a developer to take into account.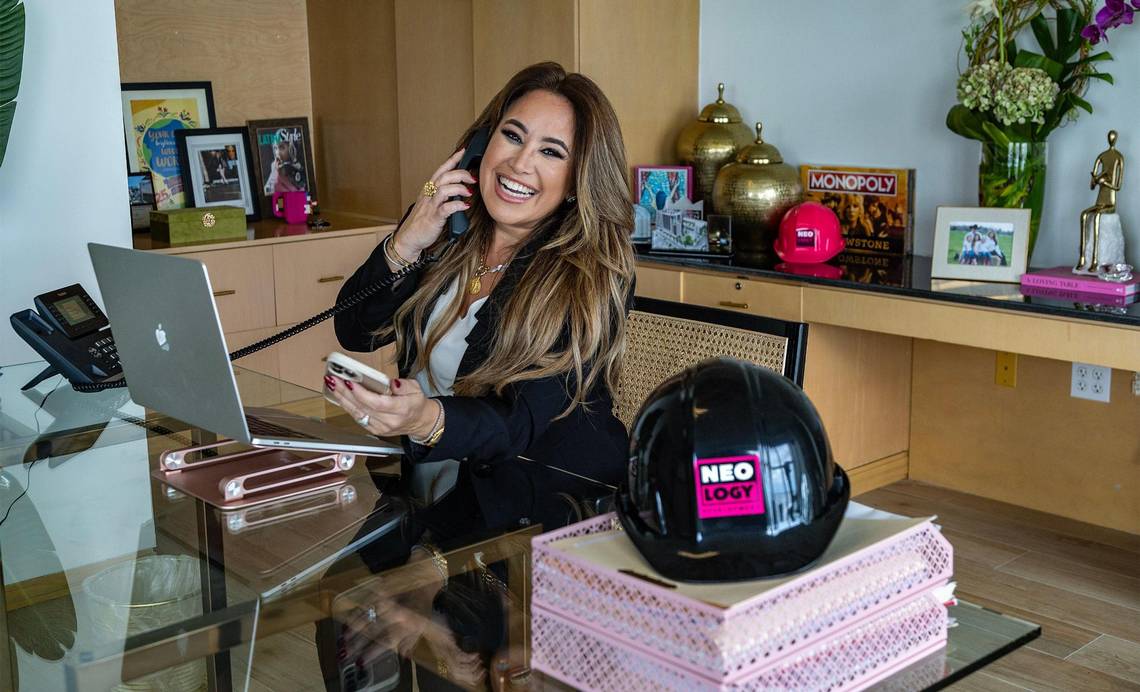 'I am sitting at my desk by 7:45 a.m. and I work about 12 hours a day,' says Lissette Calderon, leader of Neology Life Development Group. Pedro Portal pportal@miamiherald.com
▪ Q: Even if the Federal Reserve extends its pause on interest-rate increases, the jump in the key federal funds rate to a 20-year high affects developers' borrowing power for new construction projects. How has that influenced Neology?
A: I'd be remiss to say there aren't some headwinds in the industry right now. We see it every single day. That is why we're very prudent with what we do and the way we run our business. We are lean in many other things that we do. While we are staffed well, we are not overstaffed. We're putting in more equity into new developments.
We're being more conservative in the way we're capitalizing our projects, so they can withstand some of these headwinds that we see. When I think about Miami, South Florida in general, we are resilient. It is a place where people want to come to live.
▪ Q: Although many people with deep pockets continue to flock here, Miami struggles to retain its workforce. And the county saw a decline of about 28,000 residents in its population from 2020 to 2022. What do you think about the lingering affordability issues plaguing the community?
▪ A: That's why it's important to build workforce housing and really address affordable housing, and keep that on top of everybody's mind. It's something that we as developers, as city leaders, as business leaders have an obligation to make sure that all of Miami rises, that all of South Florida rises. Whether I can do that through housing, other people can do that through education, through services, we need to stop that population decline and make sure people that are here can stay here.
Share This Story, Choose Your Platform!