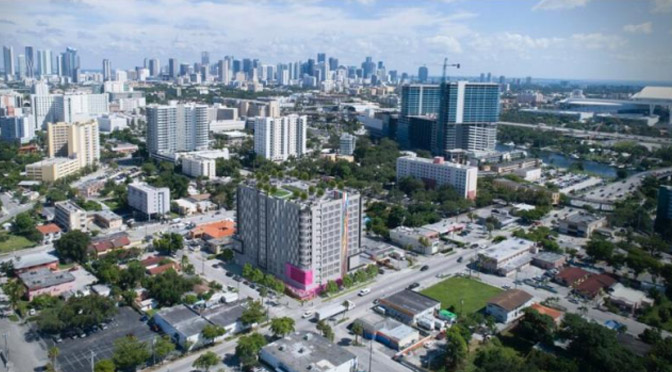 Rentals Planned for Miami's Allapattah Neighborhood
Source: COSTAR NEWS | PAUL OWERS
Developer Lissette Calderon Building a 14-Story Tower
Miami developer Lissette Calderon has started construction on a 192-unit apartment building in the city's resurgent Allapattah neighborhood.
No. 17 Residences Allapattah at 1569 NW 17th Ave. will have "an industrial chic décor," with exposed concrete, metal and wood, according to Calderon's Neology Life Development Group. The 14-story project near the Miami Health District is due to be complete in the fourth quarter of 2020.
Calderon, a former investment banker, has helped lead a development push along and near the once-polluted Miami River. She built the first of her three condominium buildings along the waterway in 2002 and recently finished Pier 19 Residences & Marina, a 199-unit complex.
Allapattah, the Seminole word for alligator, is a former industrial area and fruit-packing district north of downtown. In recent years, it has attracted coffee shops, creative offices and a trapeze school.
In April, developer Robert Wennett earned city approval to build a mixed-use development featuring coliving apartments, offices and retail space. The area also is attracting grocers, shops and restaurants. The planned one-, two- and three-bedroom units at No. 17 Residences are to range from 400 square feet to 1,000 square feet and offer views of the city and the river. Monthly rents have not yet been announced. Amenities include a rooftop sky lounge, a coffee bar and a dog park.
The goal is to build a lifestyle "with ample amenities and social spaces," Calderon said in a statement.
For the Record
Behar Architects is the project architect, and JAXI Builders is the general contractor.
powers@costar.com
@paulowers
Share This Story, Choose Your Platform!