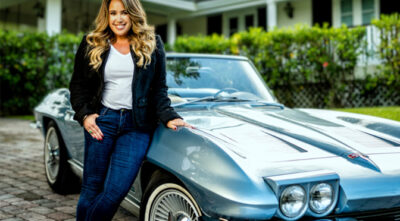 Weekend Interview: Neology Life Development Group CEO Lissette Calderon
This series gets into the heads of the decision-makers of CRE, the people shaping the industry by setting investment strategy, workplace design, diversity initiatives and more.
Lissette Calderon grew up in Miami, studied at Wharton and honed her chops at Related Group before starting her own development firm. She broke ground on her first apartment building when she was 28. Since then, the CEO of Neology Life Development Group has become known for multifamily projects that bring fresh energy to long-overlooked areas like the Miami River and Allapattah.
The following has been lightly edited for style and clarity.
Bisnow: Tell us about your leadership philosophy and what experiences, words of advice or mentors shaped it along the way.
Calderon: As a little girl growing up, my grandmother would always say, "de los cobardes no se ha escrito nada," or "nothing has ever been written about the cowardly." So I learned early on to be fearless. I have a baseball paperweight on my desk that reads, "You can't steal second without taking your foot off of first." That in many ways summarizes my philosophy: You have to be willing to take risks, or calculated risks anyway.
My father was another major influence — every night after school at the dinner table he would ask each of us kids, "So … what did you fail at today?" Failure in our household was a good thing — because it meant you were trying something new. Many of life's failures are people who did not realize how close they were to success when they gave up.
Mentors come in all forms, so another mentor/role model for me would have to be Julia Tuttle, the founder of Miami — she was a true visionary and a remarkable woman by the standards of her time or ours. We even named our newest residential development in Allapattah after her, The Julia. We hope it sends a message to all the young women out there that you can dream big.
Bisnow: How has the role of CEO/business leader changed over time — especially when considering the early days of your career to now?
Calderon: The biggest change is in communications and technology; as a CEO today, you're so much more visible than ever before. You have a bigger platform because of technology to both lead and inspire.
Bisnow: What will the role of CEO look like in 10 years?
Calderon: The essential qualities of a great CEO are fairly timeless: You have to have a vision, inspire others, and be an optimist. You also need critical-thinking skills, excellent communication skills, and the empathy to relate to people, since people are the bedrock of any organization.
Bisnow: Was leading a company always a goal for you? If so, why?
Calderon: Absolutely. I was either going to lead a prison gang or a big organization. I had a big mouth as a kid, so fortunately I was able to channel it in a positive direction and it went this way.
Bisnow: What has been your biggest mistake as a leader?
Calderon: Probably not listening to my own intuition — trying to please people. Eventually, I learned you have to go with what feels right. I may not be liked all the time, but hopefully I'm respected.
Bisnow: Has your thinking changed about the workplace between 2019 and today? How? What will your office strategy be moving forward?
Calderon: Neology as an organization has become a lot more flexible about remote work, and it really boils down to this: the people in the company who are going to perform well are going to do well whether they're working from their office or working from somewhere else in the world. So I think this hybrid work model is here to stay. Another reason I think it's here to stay is that we're a lot more conscious and aware of the importance of wellness and mental health. The line between work and home has been blurred — but in a good way. There is a massive conversation underway regarding advancing more people of color and women into the C-suite.
Bisnow: What are you doing to address those voices and that movement within your own organization?
Calderon: Organizations are all pyramids, so if you want more diversity at the top, then you need to bring those people into the organization at the entry level. Good recruitment strategies are paramount. I try to get out as often as possible, talk to people and set a good example for other women to follow. I tell them that real estate is an industry that allows you to be creative, tactical, strategic — it has something for everyone. I've proven that it's possible to wear hard hats and high heels!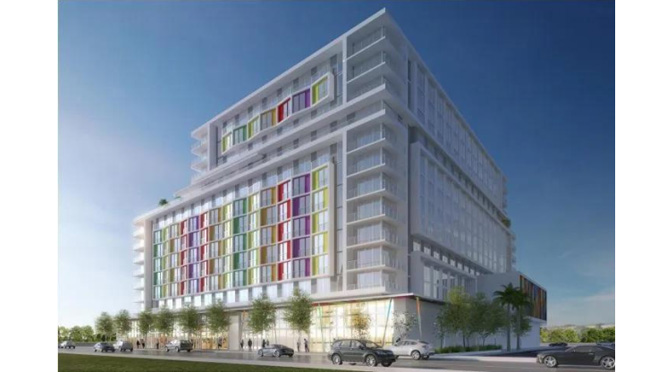 Courtesy of Neology Life Development Group A rendering of The Julia.
Bisnow: What do you think about the recent focus on sustainability and climate change? Is it overblown? Insufficient? Is your company tackling climate change in any way or taking it under consideration in your planning? Calderon: It's very important. Redevelopment is one of the best things you can do to mitigate climate change. That's why all of our developments are infill projects in urban areas where there's existing infrastructure and no need to develop on raw and green land. In Allapattah, or along the Miami River, where our lifestyle-oriented communities are located, the roads, sidewalks, sewers and amenities are already there. Plus, you have incredible access to mass transit, which is key to reducing the use of individual cars and the carbon emissions that come with that.
Bisnow: What is something CRE gets wrong in your eyes? Calderon: Not wrong necessarily, but we're not getting the message out there enough that real estate can be a lucrative career for women. This gets back to the issue of diversity and inclusion: The most lucrative side of the business is dominated by men, so there's still a perception problem. I'd like to see that side of the CRE business more reflective of the overall composition of society. Bisnow: What asset class or location will perform best over the next five years? Why?
Calderon: Multifamily for sure, and Florida absolutely. When you look at the migration trends and fundamentals, you see thousands of people moving to the state looking for a place to rent while they get their bearings and decide to settle permanently. In addition to that, there's now an entire generation that has no interest in owning a home ever, so that will keep demand for apartments very strong.
Bisnow: What book, article or TedTalk meant the most to you? Why?
Calderon: I love getting lost in books, and my favorite genre is biographies and autobiographies. I have an Aristotle Onassis biography given to me as a college graduation gift. I guard that with my life. He's someone who started with nothing and became one of the most powerful business moguls. But all that money didn't translate into happiness. That's a very important lesson. Some of the other biographies I've enjoyed are about Lucille Ball, Benazir Bhutto, Lee Iacocca, Sam Walton and Margaret Thatcher.
Bisnow: What is your all-time favorite TV show? Why?
Calderon: Jeopardy. I am obsessed. When that theme song comes on, it's my happy time. It's a guilty pleasure but it keeps me sharp too. Another one is the family drama ¿Que Pasa USA?; and then lastly, on a rainy day, I may binge watch Criminal Minds, which my kids also love.
Bisnow: How do you spend your Saturdays?
Calderon: I love walking job sites and shopping comparables. On Saturdays, our team is always a bit more relaxed and it's easier to communicate.
Share This Story, Choose Your Platform!