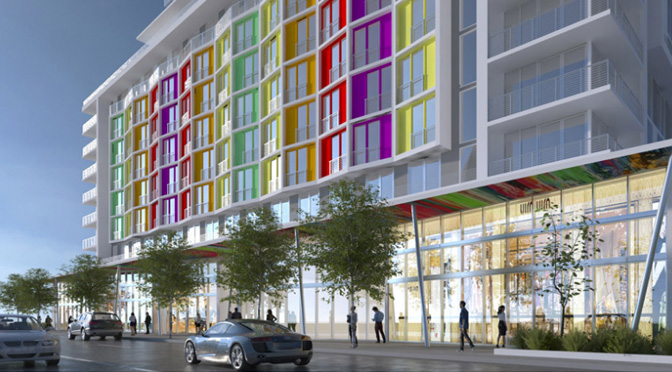 Who's building Miami: Neology Life CEO Lissette Calderon
Lissette Calderon, CEO of Neology Life, is one of the few female real estate developers in Miami — and the nation.
What's happening: Her latest building is named after Julia DeForest Tuttle, the "Mother of Miami" and only woman to have founded a major American city.
Calderon made a name for herself developing buildings on the Miami River —like the Neo Lofts condos, which she developed when she was just 28.
She learned the trade working at Related Group, run by Miami's "condo king" Jorge Perez.
Background: A few years ago, Calderon set her sights on Allapattah, where she developed the 192-unit No. 17 Residences.
The 323-unit building The Julia is now under construction and slated to open Valentine's Day next year. Another building, Fourteen Residences Allapattah, with 237 units, broke ground last year.
She has also expanded in Orlando and has plans for another 1,500 units in Miami-Dade County.
Now she builds rental apartments and holds them long-term.
Go deeper: We caught up with Calderon via phone. This conversation has been edited for space.
On International Women's Day, we think about Julia Tuttle, who founded Miami, and you, building the city today.
My hope is that The Julia will be an inspiration for every young woman with big dreams. Neo Lofts is a testament to the American Dream, because what other city in the world would give a Hispanic female — first person in her family to go to college, public school graduate — the ability to build her first high-rise at the age of 28?
Did you have an a-ha moment where you went from just dreaming to deciding you would actually build a building?
At 26, 27, I said, "If I can do it for Jorge, how can I not do it for myself?" Obviously, his balance sheet and mine were very different [laughs] but … Twenty people could tell me no — I just needed one lender to say, "Yes, I believe in your vision," and get it off the ground.
Does being female affect the design of your buildings?
I started [catering to] the young urbanite. How could I give them a great, attainable lifestyle but at a price point they could afford?
Neo Lofts started right after 9/11. It really was about community and not just building boxes — four walls and that's your apartment.
I wasn't married, but my dog was my child. As a woman, I thought, "Do you really feel great walking your dog at 12 o'clock at night by yourself?" So we created interior dog parks, up on the roof deck or enclosed. Our elevator landings always have glass, and it's lit up so people can see, and [there are] cameras.
How can a young woman today follow in your footsteps?
The biggest thing is: Jump in however you can, and wherever you can get the opportunity. Have a mentor. I had great male mentors, including Jorge Perez and my Wharton professor.
I also think one of the most important business decisions you'll ever make is who you choose to have as a partner, as a spouse, [she is married with three daughters] because that person is either going to be your greatest cheerleader, or they're going to hold you back.
Share This Story, Choose Your Platform!